MoviTHERM Mobile Thermal Screening
SKU:

MT-SST-400-XXD

Weight:

5.00 LBS

Shipping:

Calculated at Checkout
Customer Success

We know our products!

Technical Specialists

Product and System Support

Guaranteed Fit

Right tool for the job

Free US Shipping

Purchases Over $100
MoviTHERM Mobile Thermal Screening
MoviTHERM Mobile Thermal Screening w/A400 or A700 Camera
– Dell Laptop, 15.6″, Intel Core i5, 8 Gb RAM, 256 GB SSD, WIN 10 Pro
– MoviTHERM SST Screening Software
– Tripod & PoE Injector, 30ft Ethernet Cable
– Pelican Case with custom foam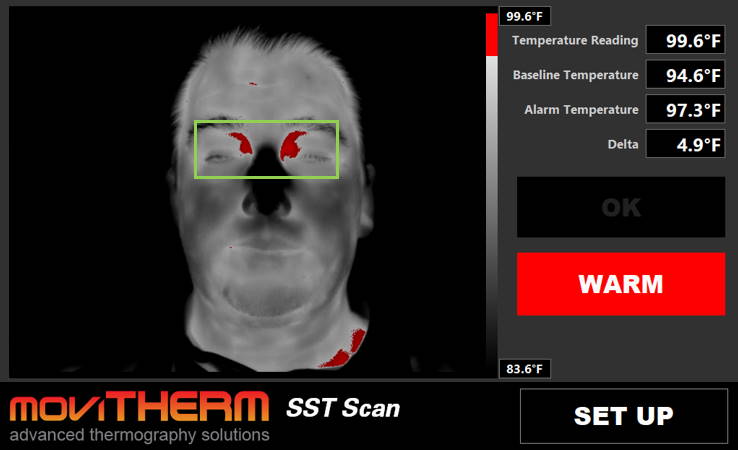 MoviTHERM's Artificial Intelligence ('AI') for face and eye detection provides truly automated screening. The advanced AI-based screening software only measures when a person is properly in frame, in focus, and at the right distance from the camera. This capability allows the software to automatically screen people of different heights, including children and people sitting in a wheelchair.
Advanced AI locates the subject's eyes, drawing a region around the critical tear duct areas (Canthus), which are the points that provide the most accurate measurements according to clinical studies. All of this happens in real-time, allowing for temperature measurements in less than 0.5 seconds/person.
Advanced AI object-detection also eliminates false positive reads that can be caused by other hot objects in the image, such as a hot cup of coffee, a mechanical device, a vehicle, or other non-human targets.
Intuitive User Interface
The software's graphical user interface is very intuitive, requiring virtually no formal user training. Scan results are indicated using a large green "OK" button or a large red "WARM" button. Numerical temperature readings are also shown.
Fast Screening
MoviTHERM's powerful real-time AI allows for fast screening without delay. The software makes decisions in less than 0.5 sec while people walk towards the camera.
Measurement Accuracy
The software supports three different, user-selectable measurement modes. The first mode, known as an "outlier detection", is based on sampling 10 or more known healthy individuals to create a baseline average. This mode provides a measurement accuracy of ±0.3°C (±0.5°F) with no black body required. The second mode allows the addition of a black body to the scene as a dynamic calibration against a known temperature reference (Optional add-on). The third mode allows for an absolute temperature measurement, using only the black body together with an absolute alarm threshold i.e. 38°C/100.4°F.
Privacy Feature in Mobile Thermal Screening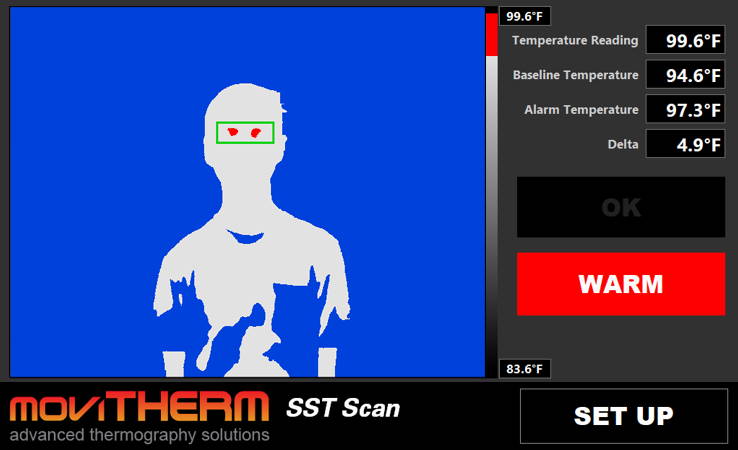 If privacy during the screening process is a concern, MoviTHERM SST has you covered. The user can enable the privacy mode turning the person into an avatar.
The person is only shown as a gray silhouette, while still showing any region as red that our outside of the acceptable temperature range.
Flexible Screening Distance
Unlike other screening solutions, MoviTHERM's SST Scan Mobile Thermal Screening offers a great deal of flexibility when it comes to resolution and optimal screening distance.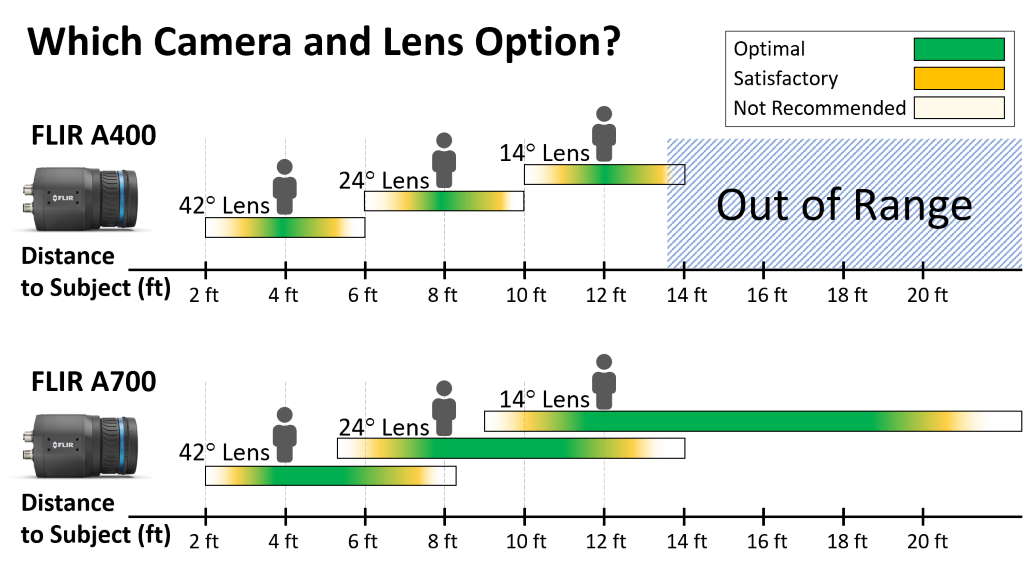 There are two camera options available. The FLIR A400 with 320 x 240-pixel thermal camera resolution and the FLIR A700 with 640 x 480 pixels. Additionally, each camera comes with a choice of three lenses, a 42°, 24° and a 14° lens. These combinations allow the system to be optimized for either close-up screening, medium distance or far distance screening, without sacrificing accuracy. Using the right camera and lens combination assures optimum system performance. For the optimal screening solution, please see our screening distance chart (above).
IoT Backend – HIPAA Compliant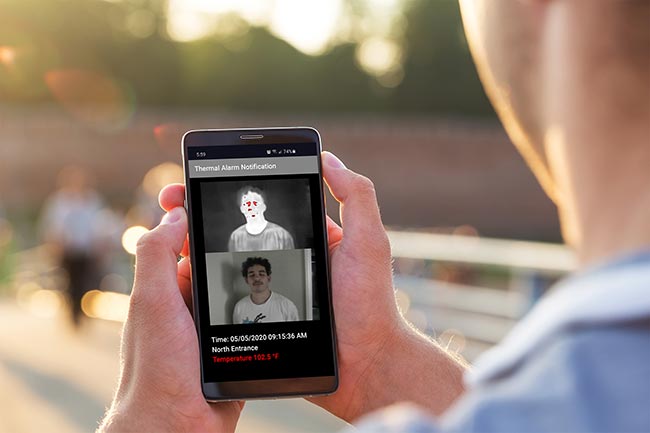 The optional, subscription based IoT backend allows for a corporate wide overview of the screening process. All screening data is made available in a HIPAA compliant, secure IoT Cloud. Unlimited users are supported and mobile phone apps for Android and IOS devices are available for 24/7 access from anywhere. Receive alarm notifications, schedule reports, view system health information and more – all at your fingertips. Let your IT or maintenance department know if there is an issue with the system based on configurable rules, either by geographic location or type of notification. Optional cell modems keep this solution entirely separate from your company network. For more information on our IoT backend, please contact our sales representatives or MoviTHERM.
| | | |
| --- | --- | --- |
| Features | Flir A400 Streaming | Flir A700 Streaming |
| Thermal Camera Resolution | 320 x 240 | 640 x 480 |
| Visible Camera Resolution | 1280 x 960 | 1280 x 960 |
| Thermal Detector | Uncooled Micro-Bolometer | Uncooled Micro-Bolometer |
| Spectral Range, thermal | 7 to 14µm | 7 to 14µm |
| Scanning Speed | <0.5 sec/person | <0.5 sec/person |
| Frame Rate | 30 Hz real-time imaging | 30 Hz real-time imaging |
| AI Face & Eye Detection | Yes | Yes |
| AI Distance Estimation | Yes | Yes |
| Measurement Accuracy (drift) | +/- 0.5°C/0.9°F* | +/- 0.5°C/0.9°F* |
| Accuracy with black body | +/- 0.3°C/0.4°F** | +/- 0.3°C/0.4°F** |
| Sample Averaging Mode | Yes | Yes |
| Absolute Temperature with Black Body | Yes | Yes |
| Camera Calibration | Yes | Yes |
| Focus Thermal Camera | Motorized Auto-Focus | Motorized Auto-Focus |
| IoT Backend Interface | Yes*** | Yes*** |
| Camera Interface/Power | Gigabit Ethernet/PoE | Gigabit Ethernet/PoE |
| Available Lenses | 14°, 24°, 42° | 14°, 24°, 42° |
| Operating Temperature | 59°F–95°F | 59°F–95°F |
| Environment | Indoor, recommended | Indoor, recommended |